The Chimera Release. 54" FPV Wing By iBcrazy by StoneBlueAirlines
Posted: September 20, 2013 | 4,649 views
---
I have ten Chimera Wings up for grabs. Wait make that 8 already sold one last night and one today.

This is an iBcrazy Design and it's what heck of a flying wing.


I am offering two kits.

Kit #1 $300

54" EPP Wing
Carbon Spars
Laminating Film
Motor Mount
1640kv Motor
Prop 8x4
50amp ESC
2x 939mg Servos
Control Horns & Rods
VAS Shirt & Sticker

Kit #2 $650

Everything in Package #1
Plus RTF FPV Kit

Pick From:
2.3ghz
1.3ghz
900mhz

Blue Beam Antenna Set to match to your system.

Camera & wiring is setup and tested before you get it.

Just ad goggle or screen and your ready to go.

Just plug and fly after your build or put the gear you already have inside.

Screen & tripod also available at additional charge if you want the full system.

Fully Tested System By iBcrazy & boxed and shipped with care.

If you want the best in video gear and a plane that flies fast and slow, high and low this is the one for you.

Happy to answer any questions.

Payment by paypal only to Info@stoneblueproductions.com

Send payment as a friend to help us keep our cost low.

Provide all your shipping info in the description on Paypal as well as shirt size.

Thanks everyone for your support.

Bondjr & iBcrazy



See More Cool Stuff On Facebook. https://www.facebook.com/StoneBlueAirlines

Please Subscribe, Like & Comment

Videos Produced by: Jeremiah aka Bondjr.
Build, Fly, Crash, Repair, Repeat.

Flight Crew:
Bond Jr. :StoneBlueAirlines
iBcrazy: cagreve1231
Vango: Jasonglaze

FPV Dealers I like:
http://videoaerialsystems.com/
https://www.facebook.com/SweepwingsRC
http://hobbywireless.com/
http://www.securitycamera2000.com/
http://www.flytron.com/
http://www.fatshark.com/
http://www.tslrs.com/
http://www.getfpv.com/
http://ragecams.com/

FPV Camera:
Sony CMQ1993X Day
Sony PZO420 Night

HD Video Cameras:
808 #16 Keychain modded lens.
808 #16 V2 D Lens
GoPro3 Black Rage Cam Addition

Planes:
Specter EPP
Raven EPP
Spartan 48 EPP Wing
Sweep Wings Juggernaut 48"
Chimera 54" EPP Wing
Mini EPP Wing
Flight Test Nut Ball

Multicopters:
DJI F450 KK2.0 V1.6
Scratch Built T-Copter KK2.0 V1.6
Anycopter Tri KK2.0 V1.6

Radio: Futaba T7Cap 72mhz
Turnigy 9XR
Receiver: Coronal RP6D1 / RP8D1 72mhz
OpenLRS 433
Orange RX Spektrum

Ground Station:
Helical & Cross Hair Antenna
Blue Beam Set
1.3 Ghz Tx & Rx

FPV Viewing:
Vuzix Wrap 920 Goggles
Vuzix Wrap 1200
7" LCD BEV-OFM

DVR:
Hobby Wireless VR1500

Flying Wing Calculator
http://fwcg.3dzone.dk/

T- Copter Calculator
http://tinyurl.com/bn2zjs2

Free Flight Sim for PC.
http://www.rcdeskpilot.com

Music:
Under creative Commons

My Job:
Photo, Video Markting & Design
Branding, Media, & Business Inquiries:
www.stoneblueproductions.com
info@stoneblueproductions.com
Related Articles
Comments
Log In to leave comments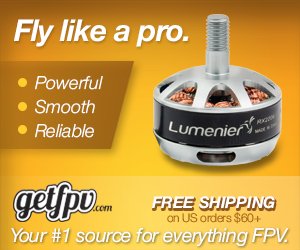 Featured Author
Influence
74%
Recent Articles
REVIEW: Flite Test FT210 Quad Frame
Arris x180 – Good Things Come in Small Packages
Loc8tor Lite Review - Locate your RC aircraft!